How to do a competitive analysis in 5 Steps. One of the funniest parts of positioning is about how to analyze your SEO competition . It is where I think that you learn to be more thorough, in addition to being a constant review of knowledge and a good way to learn and discover things to apply for your own benefit.
There are 5 main aspects that we must take into account:
User experience
Link Profile
Social networks
Content strategy
On-Site Analysis
User Experience

»You may also like: What Is Email Marketing And How Does It Work? + Mega Guide To Create A More Modern And Effective Campaign
At this point it is important to browse your website as if you were another user, take note of everything, take screenshots and ask yourself the following:
How do you convert visits into objectives? In other words, what objective do they have (sell, download a PDF, a newsletter, etc.) and what do they do to achieve it (giant call to action, discounts, etc.)
How is the process in your shopping cart? It's easier to see your own flaws in what others do well
Do they have signs of confidence? The online trust seal for example
Is the web visually striking?
Do you have special offers or promotions?
Link Profile
For this step we must use one of the many link analysis tools such as Open Site Explorer , MajesticSEO or Ahrefs .
We will have to do a thorough analysis of your link profile:
What domains have links
What type of links are (if they are purchased, natural, from directories, forums, blogs, …)
If they carry out link-baiting actions (infographics, videos …)
Link building actions that are black-hat . This is important because we can report it to Google through Google's SPAM Report .
What Anchor Text are you using for the links
This point will be very useful to know if we are doing better or worse than they are, if they have a defined link building strategy, as well as giving us ideas of where and how we can get quality links.
Social Networks
A very important part is knowing if your competitors are present on social networks and in what way, that is, what actions they carry out and if they are effective or not. It is very difficult to imitate what a competitor does in this sense, but it will help us to learn what works and what does not in your sector.
For this you must ask yourself a single question:
How are they relating to your customers?
To answer this, browse their website and ask yourself these questions:
Are they present on networks like Twitter, Facebook, Instagram, TikTok or Pinterest ?
Do they interact with their customers? How do they do that? How do they react to negative comments?
What kind of content do they share? Is it only yours or third party too?
»You may also like:What Is A Marketplace And How Can It Help You Sell More With Your Business?
Content Strategy
This point is perhaps where you can learn the most from your competitors and how to get ahead of them. Remember that quality content is that it really has the power to attract links and traffic to your website.
As in the previous points, you will have to ask yourself a series of questions:
Do they have user generated content? How can they be product reviews or a forum.
Do you have a blog? If so, what kind of blog is it and what are they talking about?
Do you have an active community on the blog? Average how many times your posts are commented on and how many times they are shared
What type of content do they have on their website ? They can be infographics, informative videos, a FAQ, guides, applications, widgets or news
Knowing what your competitor does will help you to know your weaknesses and strengths and at the same time motivate you to do better than him. An extra tactic is to use Google Alerts to find out when and where they talk about your competitors.
On-Site Analysis
Assuming that the SEO On-Site of your website is in an impeccable state, it is important to know how your competitors do it, it is a quick way to know if they are investing in SEO and if they are using some technique that we do not know and can apply.
The most important points would be the following:
What type of architecture does the web have ? That is, how the different categories are distributed on the web and at what depth are the last pages (number of clicks from the home).
Which categories are the most important on the web. With this we will know what terms you are trying to position more strongly. It is easy to know, just take a look at what categories are linked from the home. A clear example is the Amazon side menu: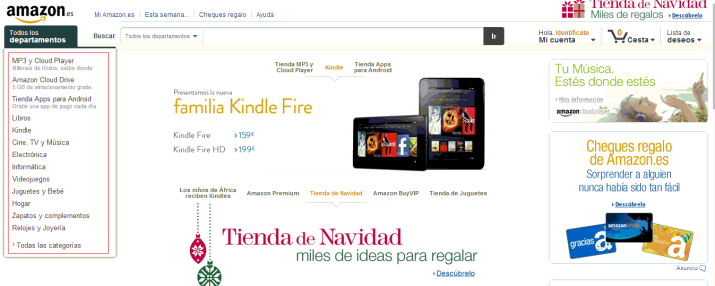 What keywords are they using in the internal links. This will help us know what words they are trying to position for
If they still use the meta tag keywords we can quickly know which words are attacking
What keywords are you targeting in your title and description tags . Screaming Frog will be very useful for this point
With all this annotated (along with the anchor text that you use in your links and the pages that those links point to), we will know which keywords and which pages are giving priority and how they do it , now it's a matter of doing Google searches with those words and see how they position, if they do well, we will try to follow that path.
Surely in the on-site analysis you will miss to inquire a bit on the technical aspect such as URLs, Robots.txt file or loading speed; But honestly, it's something we can only profit from if they continue to do it wrong.
Source: 40defiebre.com